This post is a patchwork of all the pictures taken by different people with different cameras..so excuse me for the inconsistency. On the 24th I went to Gent to have dinner with Yhonny and Dirk and their family...we had an awesome time...had fancy food and fooled around and it felt like spending christmas with the family. thanks to them for being such good hosts and Jean and Evert for inviting me. Im wearing a LBD, my old shoes, fishnets and a miniberet/fascinator from Zara, a christmas gift from Evert and Jean. luv it!
Este post una mezcla de fotos de diferentes cámaras y tomadas por diferentes personas, así que disculpen la inconsistencia. El 24 me fui a Gante a cenar en casa de Dirk y Yohnny y su familia...nos divertimos mucho...todo muy lindo y muy bien decorado y mi comida estuvo rica -vegetariana- y sentí que pase la navidad con una familia. Gracias a ellos por ser tan buenos organizadores y a Evert y Jean por invitarme. Me puse el típico vestido negro, mis zapaticos viejos con medias de malla y una mini boina o fascinator de Zara que fue el regalo de Navidad de Evert y Jean. Me encanta!
Evert y Jean
our hosts Yhonny and Dirk and Jean.
in the meantime in the kitchen....
jean fixed my hair but the hair
rat did
wonders to it!
y mientras tanto en la cocina...
Jean me arreglo el pelo pero la rata que me puse hizo maravillas para sostner el peinado...y si, se llama asi:hair rat.
voila!
On New Years eve we decided to have a small dinner at Spoorloos Station. some chatting, tears and delish food!
El 31 decidimos organizar una cenita en Spoorloos Station. conversamos, lloramos y comimos comida deliciosa!
Ana and I on skype with her family
anita y su regalo
ready tu rumble...
the resident djs...bart and Laurent
This was the first New Years Eve night I spend without my mum. I cried my eyes out when i couldnt reach her on the phone at 12...we finally talked like 10 mins later...and I cried again.
We watched the countdown on a spanish network and ate 12 grapes according to the Spanish/Venezuelan tradition. The grapes were huge and I almost choked with the last ones and i reckon I managed to ask for 6 wishes -at the most-.
At around 1am the bar was packed and we partied till the morning with champagne...much better than what I expected. So, 2012 HERE WE FUCKING GO!
Este fue el primer 31 que paso sin mi madre. Se me salieron los ojos de tanto llorar cuando no la pude contactar en el telefono a las 12...finalmente hablamos como 10mins despues y volvi a llorar.
Vimos las campanadas en la 1ra (un canal español) y nos comimos las 12 uvas para seguir la tradicion española/venezolana. Las uvas era gigantes y casi me ahogo con las ultimas y yo calculo que solo pude pedir como 6 deseos - como maximo-
A eso de la 1am el bar estaba super lleno y estuvimos de fiesta hasta la mañana con champaña en mano...mucho mejor de lo que esperaba. Asi pues, 2012 AQUI VAMOS NO JODAAA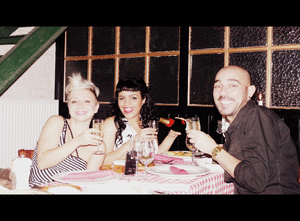 Online gif creator